email with your damage enquiry – marcuslewisboatbuilder@gmail.com
We carry out many Boat repairs here in Fowey, Cornwall.  Troy no.25 GEM, only built in 2004, suffered a collision whilst racing, and was badly damaged, so she came back into the workshop for repair.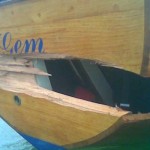 Another Troy,  JOCELYN  T1, was involved in a collision that took away the top section of her stem and bowsprit. Desperate to be racing again quickly, the repair was done, repainted and boat relaunched all in 3 days
We carry out work for the leading small boat insurers, and are on their recommended repairers lists
A well known Falmouth boat, Tom Tit, belonging to David Carne, was brought in for new deck and mast step, with new deck layout, beams and kingplank, reported to have been built in 1903, she sailed again in 2008.
We also maintain many wooden boats, doing the annual maintenance in the spring, and also looking after them during the season, if there are any problems, or small jobs that need doing, we can usually do them afloat, or bring the boat to the workshop. We work closely with Riggers-uk at Penryn who can supply any rigging usually at very short notice, to get boats back out sailing again.
We have also supplied new rudders, tillers, masts, gaffs, booms, spinnaker poles, and oars for a variety of craft.